Why JHUMUNC?
---
Our philosophy is simple — we desire to provide delegates with multiple opportunities to engage in the field of international studies, both inside and outside the committee room. By participating in one of our more than 31 high-caliber committees, listening to and asking questions of distinguished representatives of the international relations community, and meeting students from all over the globe, JHUMUNC delegates receive unparalleled exposure to the world of international affairs.
Why Students Attend JHUMUNC: The 4 C's
---
CARING: The JHUMUNC staff takes great strides to provide our delegates with an intimate committee experience. To that end, we have capped our four largest General Assembly (GA) Committees at 150 people, all of our Economic and Social Council (ECOSOC) Committees at 65, and all of our Specialized committees at 21. Moreover, we always run a Novice Committee in which new delegates can "learn the ropes" of the UN in a less-intense setting. Our staff does everything it can to make sure our delegates are well prepared for committee session: in addition to comprehensive background guides on each committee topic, JHUMUNC also provides resources to help them research. Our committee chairs and Undersecretaries-General are more than willing to work with delegates throughout the preparation process and even during the conference to make sure each delegate is able to maximize his or her committee experience. Finally, we feel it is important for our delegates and staff members to get to know one another as individuals. To fulfill this goal, each delegate is invited to join his or her committee's staff members on Saturday for lunch at one of the Inner Harbor's many fantastic restaurants. We encourage the delegates at this lunch to ask their committee's staff members about their experiences being Hopkins students or college students in general, and how they became interested in international politics.
---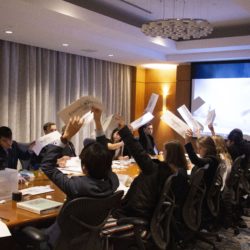 CREATIVE: The breadth and depth of our committee offerings make JHUMUNC one of the most innovative Model UN conferences around. Our goal is to provide creative yet practical simulations that allow delegates to strengthen their knowledge of international affairs and public speaking skills, as well as allow delegates to solve problems that continue to elude world leaders. Moreover, JHUMUNC runs unique simulations, namely our Joint Cabinet Crisis and Quadrumvirate committees, which interact with one another and thus provide delegates with a challenging experience that other committees cannot provide.
---
CONVENTIONAL: JHUMUNC is pleased to offer over 15 committee options for those who desire a more traditional Model UN experience. Our more traditional offerings include committees such as the Social, Humanitarian, and Cultural Committee, the Legal Committee, the Human Rights Council, the Security Council, and many others! These committees, along with our more innovative options, are all designed to foster critical debate so that our delegates leave with the experience necessary to become a great diplomat and international relations scholar.
---
COST-EFFECTIVE: We understand how important it is for delegates to have a cost-effective Model UN experience. To that end, JHUMUNC has some of the lowest conference fees around, including NO Advisor Fee! Out of the 11 largest high-school Model UN conferences in the United States, JHUMUNC ranks FIRST among all four-day conferences in terms of registration pricing. JHUMUNC also ranks FIRST among all four-day conferences for the cost of the Delegation Fee. The average cost of the Delegation Fee for these 11 conferences is over $95, which is more expensive than our JHUMUNC fees! Finally, given the fact that we offer a four-day conference comprised of over 30 impressive committee options, speaking events, and social events, JHUMUNC is the best deal you will find. For a full list of conference fees for JHUMUNC, please visit the Fees and Payment Policies page located under the Conference tab or click here.
While maintaining an affordable price level, we are also focused on saving the high caliber. In JHUMUNC, we put the quality first and do our best to maintain the high level of our committees and the whole organization. We are determined to remain the best and keep providing our delegates with opportunities to engage in the field of international studies as well as guide them in the world of international affairs.
The ability to maintain an effective pricing policy without affecting the quality becomes possible due to the massive support of our partners:
University of Maryland
EPAM Systems
Maryland's Credit Union
Ticketmaster
JLL Baltimore
Learn Behavioral
Onemain Financial
RF Smith Logistics
LifeBridge Health
The Baltimore Free School
Royal Travel Planners
Copper Kitchen
Harbor Designs and Manufacturing
Bmore Baskets
Fed Hill Photography